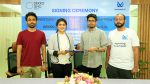 Dekko ISHO Group, a diverse business conglomerate and market leader in various industries in Bangladesh, has invested in Markopolo.ai as an institutional investor in their pre-seed round. The signing ceremony was attended by Prottoy Hossain, Director, of Dekko Isho Group along with the founders of Markopolo, Tasfia Tasbin, CEO, Rubaiyat Farhan, COO, and Zaman, CTO. Markopolo.ai, a deep tech startup headquartered in Delaware, USA, provides businesses a cloud-based software which can put their digital advertising on autopilot.
Tasfia Tasbin, Co-founder and CEO said "It's an end to end digital marketing solution mimicking what an agency can serve, being more data-driven, personalized and cost-efficient for businesses."
"We are excited to diversify our business portfolio, while contributing to the disruptive growth of the IT industry of Bangladesh, and we are looking forward to see where this partnership takes us".

Prottoy Hossain, Director of Dekko ISHO
Markopolo.ai currently serves a variety of corporations, small businesses, and eCommerce business owners around the globe. Dekko ISHO Group's trust in this futuristic venture is an indication that accomplished and veteran market leaders see the potential of AI in the field of marketing and the prospect it has in the country.
Source: The Daily Star