Own Innovation in design and development is the

primary focus of Agami Washing Ltd.
Agami Washing Ltd, a sister concern of Dekko ISHO Group, started its journey in 2015 at Gazipur. It is a fully compliance and green model factory. The company accomplished all parameters set by Accord and Alliance.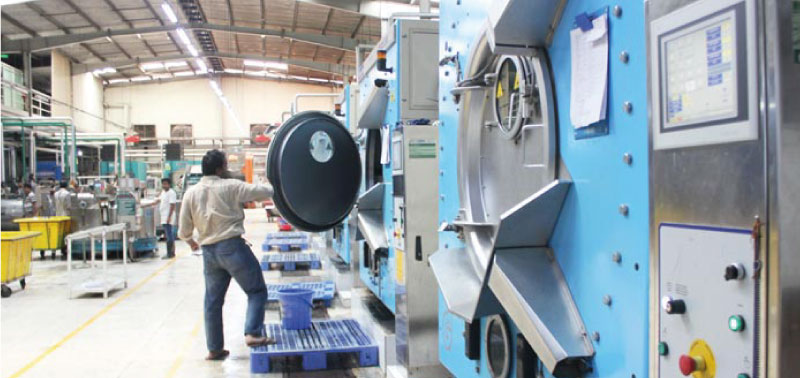 Currently, our washing capacity is around 70 thousand pieces of denim. Our laboratory is equipped with modern machines and creative technical experts. The washing unit equipped with modern and high-tech machines, including 11 front loading machines from TRIVENETA, 30 side-loading machines, eight sample machines and eight high tech dryer machines.
It also uses sustainable OZONE fading machine from Jeanlogia, nano-bubble technology machine from Tonello and dryer machine Tupesa. Mostly they use Italian, Turkish, Japanese, and Chinese branded technology.
Agami Washing uses OZONE fading system that takes air from the atmosphere and transforms it into ozone. It also effectively improves the whiteness of used areas and eliminating the back staining of garments. Our R&D team brings stunning aesthetic appearance in their development.
We apply wash in two processes:
Wet Process: Garments Wash, Enzyme Silicon Wash, Stone Enzyme Wash(Dark Wash), Stone Enzyme Medium Bleach Wash, Stone Enzyme Bleach Wash( Lt Wash), Super Light Wash, Acid/Snow Wash, Towel Bleach Wash, Tint Wash, Rubber Ball, Garment Dye, Dip Bleach, Dip Dye, Cold Dye.
Dry Process:  Hand Scrapping, Hand Whisker, Chevron, Tacking, Tie Effect, Destroy, Grinding, Crinkle, 3D, PP Rubbing, Resin Spy, PP Spy.